We believe
nature should be cared for and protected. We are committed to do that.
At AQUA Carpatica
we use state-of-art, enviromental friendly technology to responsibly source our waters.
We work directly with local authorities to enforce an environmental protection plan, ensuring that the land surrounding the springs is not influenced by any industrial activity or polution.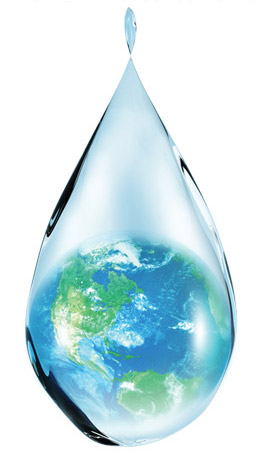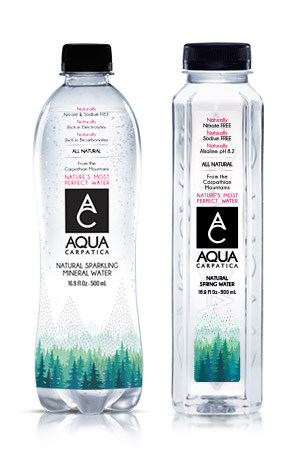 As an independent company, we are committed in providing a high quality product that fulfills all the requirements for a perfect drinking water.
Any informed consumer in the world deserves to taste the purity of AQUA Carpatica springs.
Through it's unique design, pleasant taste, known health benefits, and our conscious respect for the environment, AQUA Carpatica is truly
Nature's Most Perfect Water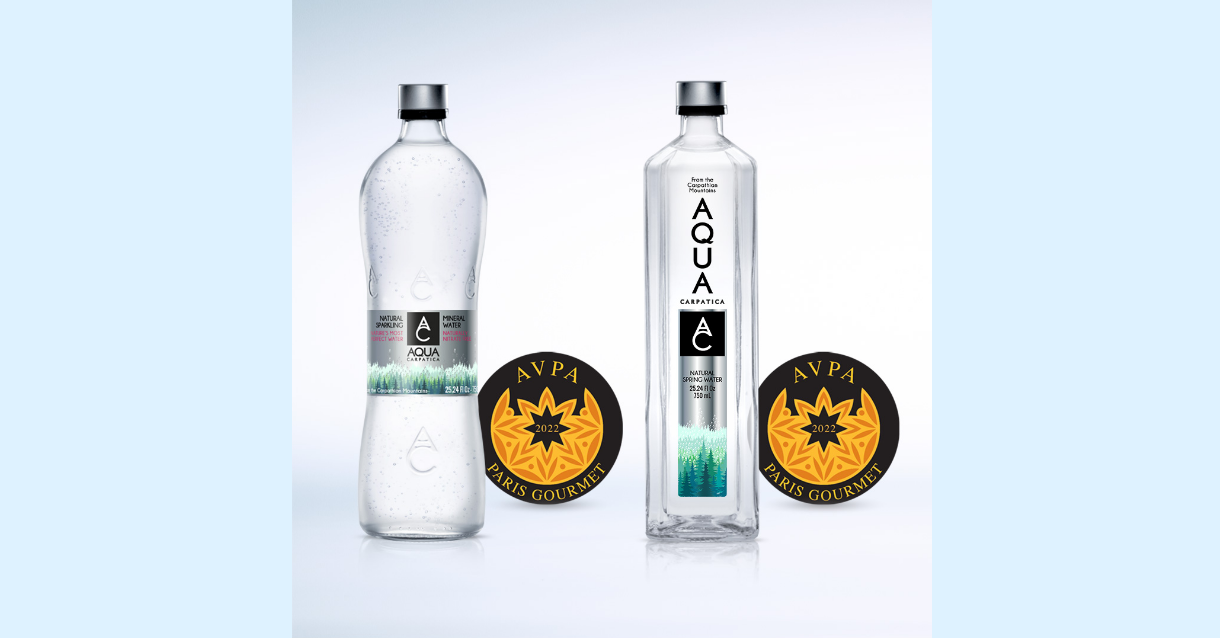 2022- AVPA Gourmet Product, Paris
The AQUA Carpatica waters (Naturally Carbonated Natural Mineral Water and Natural Mineral Water) continue the frantic course of international distinctions and awards, this time with two AVRA PARIS GOURMET distinctions. Specifically, they were distinguished by a special committee of chefs and gastronomists for their unique, crispy taste from the International Institute for Certification of Agricultural Products AVRA GOURMET.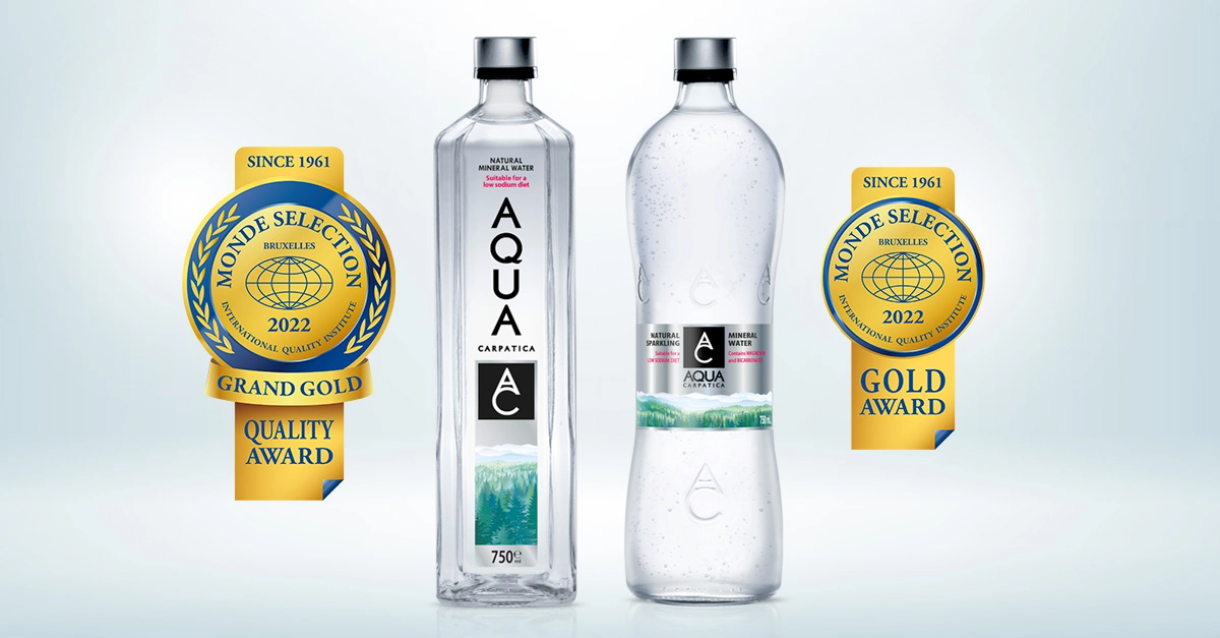 2022 – Monde Selection, Brussels, Belgium
AQUA Carpatica Natural Still Mineral Water was distinguished with a prestigious Grand Gold and AQUA Carpatica Sparkling Mineral Water with a Gold Award at the Monde Selection World Quality Awards 2022.
Monde Selection Quality Institute, established in Belgium, has been honoring the quality of consumer products since 1961. The institute has established itself as one of the oldest and leading authority in the quality assessment of consumer products based on organoleptic and scientific parameters. The evaluation process starts with the organoleptic evaluation that will assess the beverage's aspect, odour, taste, aftertaste, mouthfeel, conformity to style and many other criteria.
To have an overall judgement of the quality, experts will not only analyse and control chemical or microbiological parameters, but also evaluate the product's composition. For waters, they will look at the minerals, pH, the anion, cations, etc. which may be subject to various standards in different countries and target audiences.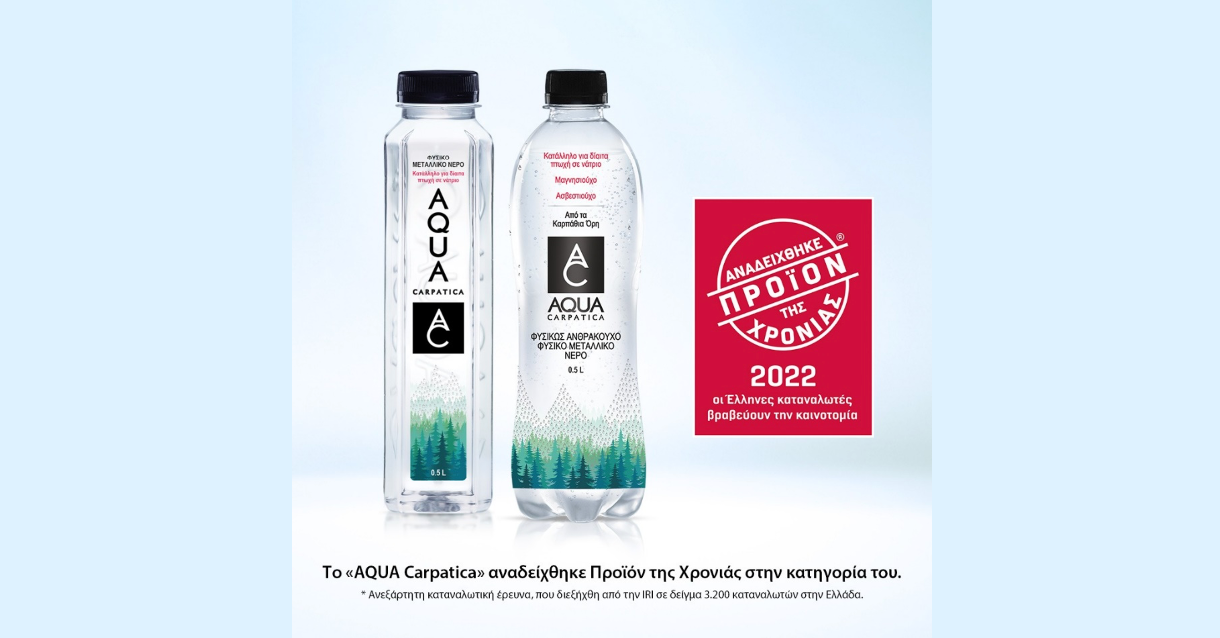 2022 – Product of The Year, Athens
AQUA Carpatica received the Product of the Year ®2022 award in Athens, Greece at this year's largest consumer-voted award for product innovation.
"Product of the year" is the largest international institution that is voted on the criteria of product innovation. With its prestige, strict standards, procedures and consumer involvement, it adds value to this distinction. Founded in 1987 in France, it now operates in almost 50 countries to guide consumers to the best products on the market and to reward producers for quality and innovation.
The study was conducted by IRI on a representative sample of 3,200 consumers in Greece.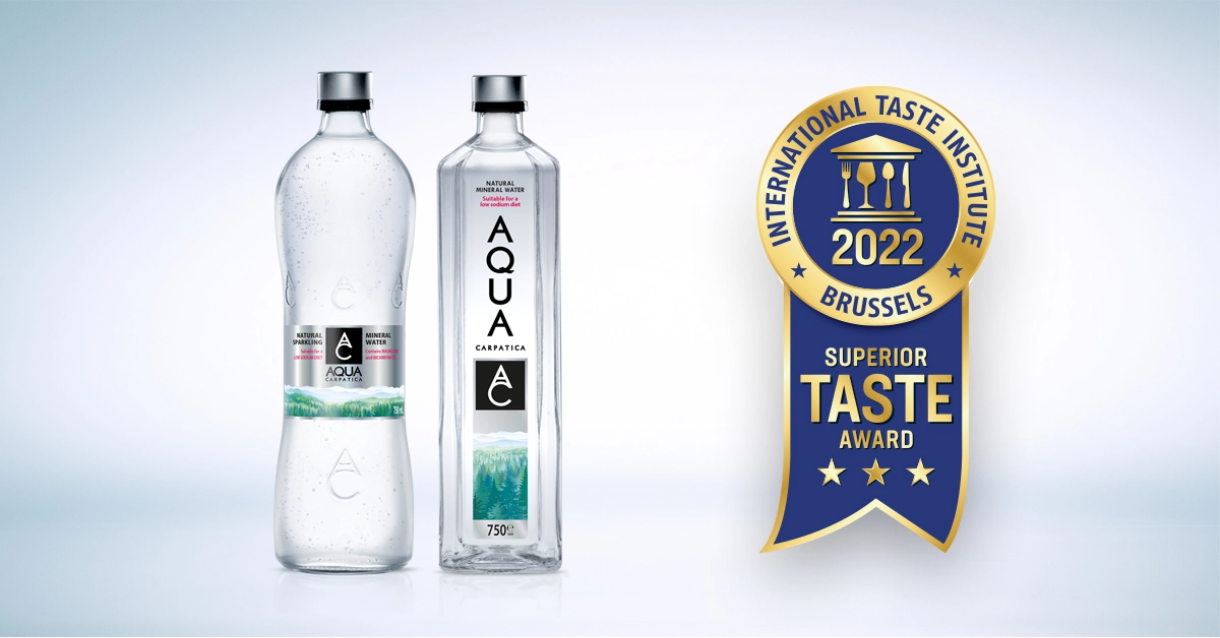 2022 – Superior Taste Award, Brussels
AQUA Carpatica Natural Still Mineral Water and Natural Sparkling Mineral Water have been granted for six consecutive years the 2022 Superior Taste Award, the most renowned certification worldwide, focused on taste.
The Awards are organized by the International Taste Institute in Brussels, Belgium and are judged by an exceptional jury of over 200 strictly chosen Chefs and Sommeliers, all who have specialized knowledge in tasting and sensory analysis. Their talents are recognized in Chef & Sommelier competitions or by renowned institutions such as Le guide Michelin or Gault & Millau.


2022 – Healthy Diet Awards, Athens
The superior taste and especially the exquisite quality of AQUA Carpatica Natural Still and AQUA Carpatica Natural Sparkling Mineral Water, impressed the judges of "The Healthy Diet Awards", organized by Boussias, Athens, Greece.
Th